Private Wine Tours in Emilia Romagna
"Quel gran pezzo dell'Emilia: terra di comunisti, motori, musica, bel gioco, cucina grassa ed italiani di classe." Edmondo Berselli
"Emilia; what a looker: land of communists, motors, music, good play, cuisine of substance and Italians of the best class" Edmondo Berselli
The region of Emilia-Romagna is undoubtedly one of our favorites. This is the region which always provokes great heartfelt smiles from everybody, which induces the most pleasant of sensations, where there is a feeling of lightheartedness in the easy enjoyment of its food and wine.
This is a place where the simple pleasures are important components of the quality of life but where presence of mind has also created excellence and sophistication. A land of working-class taverns and draft wines where old folk tales are still spun. Conversely, it is also a land of luxurious wines and star-studded restaurants.
In this region artisans in the Food and Wine business and entrepreneurs of all kinds have really come together to consolidate and protect their excellence. There are many success stories and Italian household names here from Ferrari to Parmigiano Reggiano, Prosciutto di Parma (Parma Ham) and Balsamic Vinegar.
There is a rich and intricate territory of relationships where each producer finds his/her own niche whilst maintaining a common goal and receiving solidarity regardless of the size of their business.
Emilia Romagna is a geographically diverse region equally composed of planes, Apennines and other gentler hills. The territory extends itself from the borders of the Oltrepo' Pavese to the Adriatic Sea.
The agriculture of the vines here is manifold and characterized by the popularity of many different grapes and deeply marked by a traditional love of sparkling reds.
To understand the difference between Emilia and Romagna we would need to embark upon a historical narration, but this is beyond the scope of the present website. Suffice it to say that Emilia and Romagna are two distinct macrocosms, once separated but now part of the same political and administrative region. The common ground between the two is found in the city of Bologna; this is where both personalities flow harmoniously into one.
About wines in Emilia Romagna
The wines of this region have an immediate appeal , simple and fresh to the palate, characterized by a pleasing kind of aggressiveness and vitality – They are mostly enjoyed at the dinner table and are especially conceived to be tasted with regional food.
The specific wine production areas are Colli Piacentini (Hills near Piacenza), Terre dei Lambruschi, Colli Bolognesi (Hills near Bologna) and the Romagna.
The main grapes used here are Lambrusco, Bonarda, Barbera, Sauvignon, Malvasia Aromatica di Candia, Spergola, Trebbiano, Trebbiano di Spagna, Croatina, Pignoletto (grechetto gentile) and Albana. 
Lambrusco wines from Emilia Romagna are generally young and fresh. Wines that have a great equilibrium between spices and fruit and are highly mineral to the taste. These are simple wines, faithful to the convivial traditions of the region and do not require any kind of preparation time or ritual. They can be opened and enjoyed right away. Yet they have great character.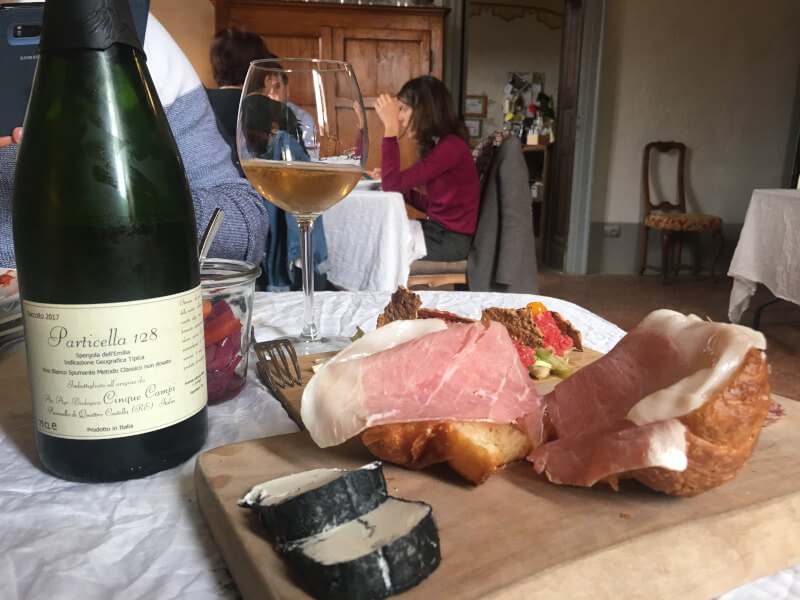 In dealing with the beloved Lambrusco one must remember that within this category there are twenty or so different wines, so the identity of this wine is always expressed in the plural.
The main varieties of grapes are : grasparossa, salamino, di sorbara, maestri, marani, montericco, via danese and foglia frastagliata. 
The Lambrusco di Sorbara is the most esteemed. It is delicate and barely rose in color. Mario Soldati defines it the "humble champagne of Emilia". Whereas the Grasparossa is more concentrated, dark and intense, characterized by a foam of deep purple. 
The lands where Lambrusco is produced, between the Tuscan-Emilian Apennines and the right side of the river Po, extend themselves from Parma to Reggio Emilia up to and including the province of Modena. 
Lambrusco di Sorbara, Salamino and Grasparossa are exclusive to the area of Modena. They can have a second fermentation in the bottle following a dry Charmat Method or sweet Classico Method.
"There are many interpretations of Lambrusco, but which one is the real, the original? Certainly not the sweet and fruity kind which was conceived as a solution to the market's request for an easy wine -beverage or "soft wine". The real Lambrusco has a strong personality, perhaps even too much personality in some respects. The genuine Lambrusco with a capital L is a sparkling and vivacious DRY red wine. It's an honest and veracious wine, easy to drink and easy to pair."
From the book: 'Tutti lo chiamano Lambrusco'- "They call it Lambrusco"
The lands of Emilia Romagna feature many different grapes but also different kinds of wineries, from the large coop to the microscopic artisan.
"More than 10 years ago the large private wineries powerfully began to assert themselves but today the real surprise in this business is represented by the small producers. They are proving themselves to be extremely capable, creating wine making techniques which are less tied to the tired conventions yet still managing to maintain the high canons of quality control." Slow Wine Guide
Photos of our past wine tours in Emilia Romagna
Why choose a wine tour in Emilia Romagna
A winelink tour in Emilia Romagna naturally encompasses the great staples of this region's cuisine and will regale you with a genuine experience of the traditional rural culture of this spontaneous, fun loving, refined and extroverted area of Central Italy. 
"Broadly speaking everything stems from the table, this is the natural cultural approach. The cuisine of Emilia Romagna is quite sophisticated if one thinks of the quality of the cured meats which are extremely elegant and full in flavor. The variety of fresh pasta is marvelous, and the dough must be rolled very thinly so that a perfect balance between dough and filling is safely achieved." 
Filippo Marchi. – 
Our private wine tours will be your chance to meet the artisanal producers who are the guardians of ancient vineyards and grapes, the protectors of old values and traditions. 
Aside from making wines of easy appreciation these are the men and women who defend a heritage which has not yet been fully ratified and is in danger of becoming extinct.
The package tour entails a minimum of 3 days and 2 nights. The group cost starts at €450. 
All organizational aspects including transport, suggestions for hotel accommodation etc. will be discussed and personalized via email.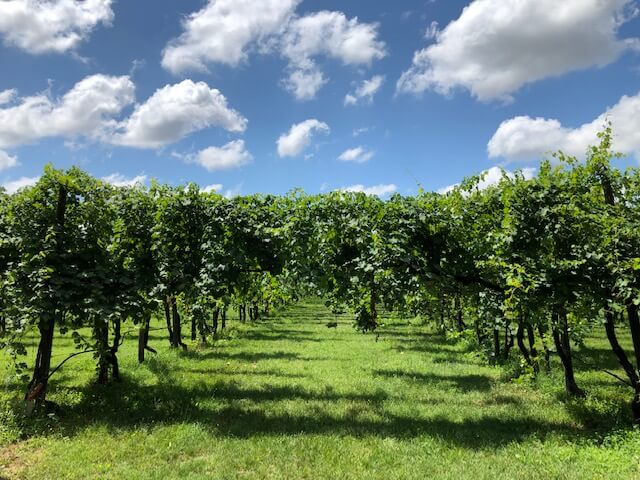 Request a quote for a private wine tour in Emilia Romagna