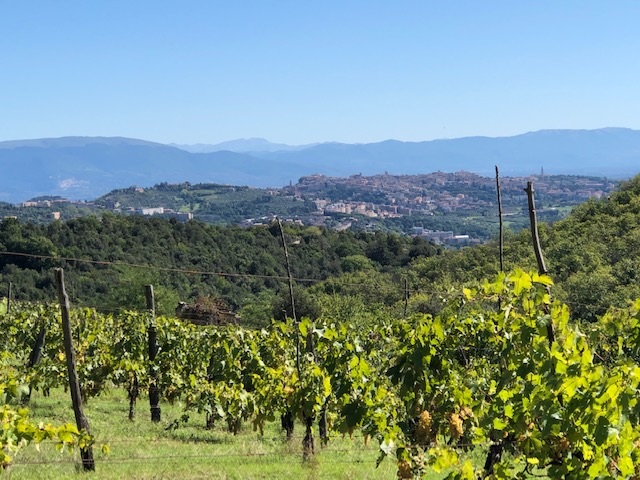 Continued from > Home > who we are
Wine Link Italy now offers a profitable decade of experience in the field of Eno gastronomic and cultural experiences. Our services have been enriched by passion, energy, human contact, creativity, ideas, trips, training, research, and constant evolution.
Over the last ten years we have created custom made tours based on Eno gastronomic and cultural experiences in Tuscany, Emilia Romagna, Lazio, Abruzzo and Piemonte. Our knowledge has now been extended to include all these areas outside of our native Umbria
Throughout these many regions Wine Link Italy also acts as a local facilitator and ground operator, offering specialized services and in-depth knowledge of the territory to tour operators and travel agencies. (see B2B section)
"I believe that the soul of the Italian countryside lies in its food & wine"
For more than 10 years Barbara D'Agapiti has been a well-respected name in the Food and Wine scene in Italy. 
Wine Link Italy is the company she has built from the ground up with passion, professionalism, and a genuine love for the fruits of the land.
Originally from the lovely Castelli Romani area near Rome, a part of the region historically famous for wine production, she grew up in a traditional Italian family where her grandparents ("I nonni") formed an integral part of the household.
For the first ten years of her childhood Barbara was fortunate enough to be fed with whatever the grandparents produced; eggs, poultry, pork, the fruits of an extended vegetable patch (orto) and yes, the occasional sip of homemade wine.
Having been spoiled with the taste of Italy's finest products from a young age Barbara knows where to find the real deal when it comes to food and wine.
In 2001 her father urged her to broaden her horizon and get out into the world and her first stop was the University of Perugia where she studied Economics and Tourist Services Management.
Soon, a fortuitous encounter with a young man named Anthony would forever change her life. A trained sommelier and son of a restaurateur Anthony helped her discover new flavors in the fascinating world of food and wine.
It was Anthony who also brought Barbara in contact with a renowned gastronome, Maestro Salvatore Denaro, a unique personality with an insatiable passion for all that lives and grows. Salvatore was ahead of his times with his Wine bar (Enoteca) and farm-to-table restaurant named 'Il Bacco Felice' where he served up delicious dishes with produce from his own garden. The crash course in good hospitality at 'Il Bacco Felice' (The Happy Bacchus) confirmed Barbara's belief regarding the importance of provenance, seasonality, and freshness of the raw ingredients.
After Anthony's untimely death Barbara kept his inspiration alive by continuing the lifelong search for excellence and developing a strong desire to share her experiences with visitors from all over the world.
Becoming an expert involved a lot of tasting, travelling, and quizzing the producers but it is always wise to reinforce direct first-hand knowledge with serious studying.
Consequently, through the years Barbara has accumulated a broad selection of certificates and diplomas. She is a qualified olive oil taster, a certified Sommelier of the Associazione Italiana, holds a WSET level 3 diploma, is an active member of Slow Food Italy and a contributing writer for the yearly Slow Wine Guide.
Among the many other on- going projects she undertakes to continue to improve her connoisseurship Barbara is currently immersed in the study of "natural wines" with the well-known writer and journalist Sandro Sangiorgi of Porthos fame.
From the start of her career Barbara has embraced and promoted small wine producers who have ventured outside the sometimes-strict regional rules of wine production. These producers and their wonderful 'vini naturali' (natural wines) are pushing the boundaries of winemaking and opening new and exciting horizons on the taste front.
Her upbringing, her travels and research expeditions all over Italy have brought Barbara in contact with all the beauty, culture, and riches that the Italian territory at large has to offer.
Travelling and searching for excellence in wine and gastronomy has also made her lots of friends.
Booking a tour with Barbara and Wine Link Italy will allow you to travel along the less beaten path and make the most of your experience, making you feel like an integral part of the large Italian family which Barbara has nurtured along her way.
Her friendliness and great professionalism are the founding ingredients of an unforgettable trip blessed with the right balance between knowledge and fun.
As one of her guests describes it: "From the wine aficionado to the curious newbie, Barbara shares her passion with generosity, creating that ancestral, magic atmosphere that can be found in simple, exceptionally human things: like telling stories over food and wine, and coming to understand a place and its culture by truly, mindfully living it."
Enjoy a short clip of our humble beginning